Stay Relevant with Personalized Product Recommendations
Product Recommendation is the powerful AI tool to deliver individualized product recommendations across all your channels such as web, email, mobile, in-store or even your call center.
AI Based Recommendation Engine
Powerful Product Recommendation AI engine processes millions of customer interactions with thousands of products in real-time, giving up-to-date product and content recommendations to each individual user. The engine detects product and customer behavior updates as they happen to update recommendations accordingly, resulting in better experiences and more conversions.
Built-in Scenarios to Kick-start Personalized Product Recommendations
Product recommendation includes an extensive library of built-in scenarios and lifecycle marketing campaigns – allowing you to execute personalized product recommendations and powerful campaigns right out of the box.
CONVERT

Abandoned Cart Products
Send reminder emails about the products left in carts and recommend alternative products.

Alternative Products
A widget for your product detail page that shows alternative products that are related to viewed products.

Brand Top Sellers
A widget for the brand page (for multi-brand web sites) that shows the most popular products of that brand.
GROW

Cross Sell Products
A widget for your check out page that shows the frequently bought together items that are related to purchased product(s).

Replenishment
Send reminding email for the products that are being expected to be bought with a given time frame such as toothpaste, detergent, shaving foam etc.

Favorite Category Top Sellers
Send email to customers that contains the most popular products from their favorite brands.
RETAIN

Churn Visitors
Send email to customer who has not visited your website for a specific amount of time which contains the most popular products from the last viewed categories.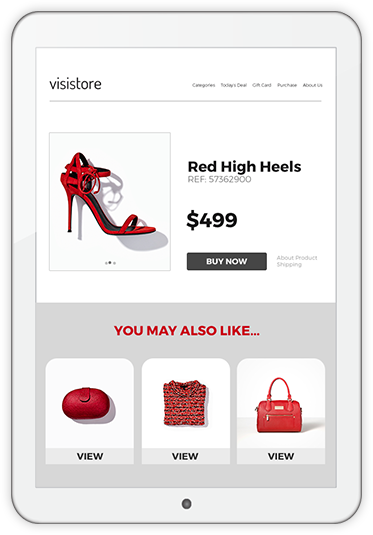 Why Use Automated Product Recommendation?
Easy Shopping for Your Customers
Product recommendations help customers find exactly what they are looking for at the exact moment and generate interest in additional products while guiding them through the shopping process.
More Revenue for You
Use product recommendations to increase engagement, average order value, and revenue while reducing management effort and execution time. It also allows you to promote your entire product catalog across multiple channels, making it easier for customers to find and purchase items that they might otherwise not know about.
Check Out Our Video For More!
What is the Product Recommendation?
It is an artificial intelligence application that allows you to make personalized product recommendations to your customers in all channels, from website, e-mail, mobile, store, even call center.
What does the Product Recommendation do?
Product recommendation engines analyze data about shoppers to find out exactly what types of products and offers are of interest to them. Based on search behavior and product preferences, they offer contextually relevant offers and product options that appeal to individual shoppers and help drive sales.
How does the Product Recommendation work?
Typically, a recommendation engine operating principle consists of data collection, storage, analysis, and filtering. It offers a personalized product or service for each user by examining user interactions.
What are the benefits of using the Product Recommendation?
Increases sales and average order value.

It allows you to deliver customized and relevant content.

It delivers a consistent brand experience.
Why should you use the Product Recommendation?
With a wide variety of business practices, including predicting seasonal purchases based on recommendations, identifying key purchases and providing better recommendations to customers, brands can leverage recommendation systems for two key areas: brand loyalty and enhanced customer retention.
Grow Your Business Faster With Product Recommendation
Contact us today! Let our experts find your solution.
We have received your application. Thank you.
Error occured, please try again.