Automate the Way You Engage
Create and launch highly targeted and complex customer journeys across all your marketing channels to increase customer lifetime value, revenue and retention while saving time and effort.
WELCOME
Create welcome journeys to improve brand loyalty starting from the first contact.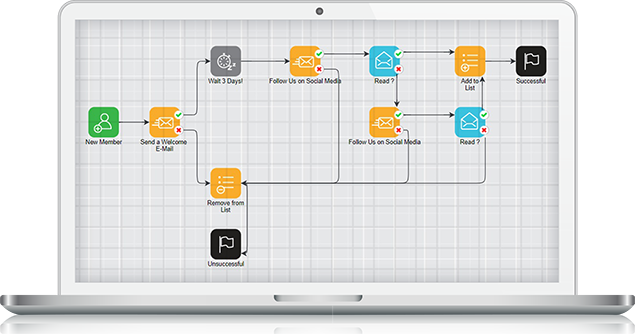 CHURN
You can reach your customers who have made their last shopping 6 months ago and do not shop for 6 months and reach them with automatic series and start shopping again.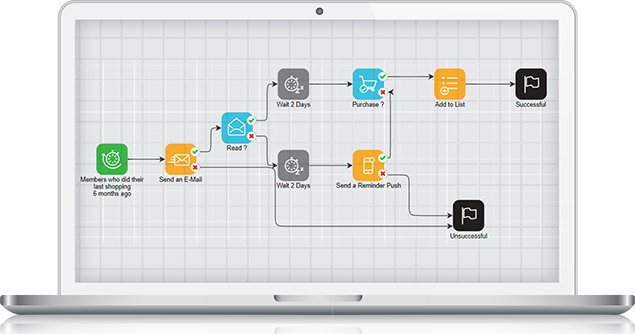 FIRST PURCHASE
Launch automated journeys to create personalized engagements and urgency for the first purchase.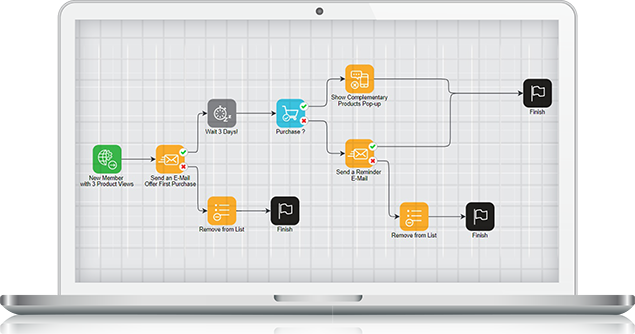 Channel Orchestration
Easily design, manage and optimize well-coordinated campaigns across channels in a single place. Create omni-channel trigger-based and automated campaigns. Send out well-orchestrated automated transactional emails, SMS and push notifications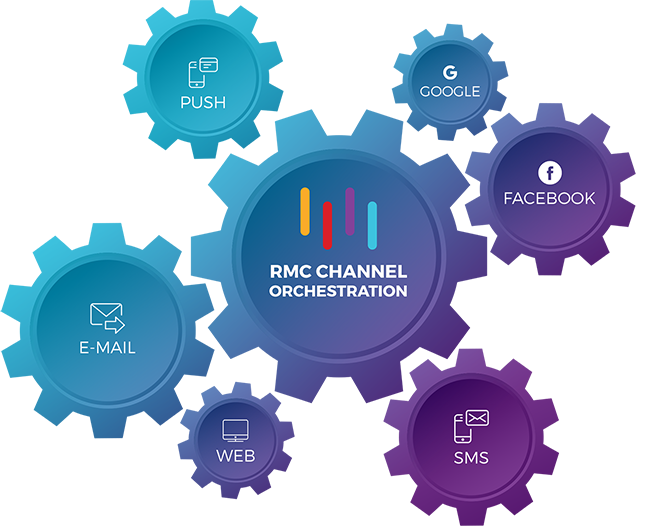 Features of Customer Journey Manager
Drag and drop marketing automation solution to design complex campaign workflows, incorporating touchpoints across channels, online behavior, business rules and much more.
Takes segmented data from any touchpoint in any form as a starting point

Triggers events not only at a push, email or SMS but also on websites or mobile devices

Capable of splitting decisions or A/B testing

Creates multiple scenarios with multiple versions

Measures and optimizes ROI through a greater understanding of your customers' interactions, needs and interests
Check Out Our Video For More!
What is Customer Journey Manager?
Customer Journey Manager is the process of finding the best way to interact with customers at every stage of their journey to continue taking a customer through the sales funnel.
What does the Customer Journey Manager do?
Companies need to create strategies to keep customers engaged and coming back. Customer Journey Manager is the process of identifying what information customers need at each stage of their journey to take the next step. Customer Journey Manager includes defining what types of messages are delivered to customers and when to engage them at every stage of the purchasing process.
Why is Customer Journey Manager important?
Users are more immersed than ever before in their product and service experiences, thanks to smartphones and other technologies that provide customers with instant and continuous connections with brands. For this reason, purchasing processes have started to require more awareness.
What are the Customer Journey Manager stages?
Customer journey management includes all aspects of the customer journey, from mapping to optimization. Here are four must-have parts for your customer journey management framework.
Mapping

Analytical

Design

Optimization
What are the benefits of using Customer Journey Manager?
Increased marketing ROI.

More income through customer referrals.

More activity in cross-sell and up-sell.
Grow Your Business Faster With Customer Journey Manager
Contact us today! Let our experts find your solution.
We have received your application. Thank you.
Error occured, please try again.