Unify Customer Data for Flawless Marketing
Customer Data Platform enables data collection, unification of customer profiles, segmentation for running omnichannel campaigns.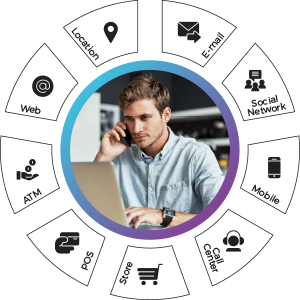 Single Customer View
Create a single customer view connecting all types of customer data from online and offline sources such as websites, CRMs, mobile apps and call centers, etc.
Behavioral Segmentation
Create rule-based or dynamic-filtered segments based on cross-channel behavior and demographic information for the needs and interests of customers.
Customers who have checked a certain category of products in the last X days but have not purchased any products
Customers who have ordered at least X products in the last 6 months but have no view on mobile
Customers who have done a lot of shopping in the last year but did not shop again after reaching to call center within this year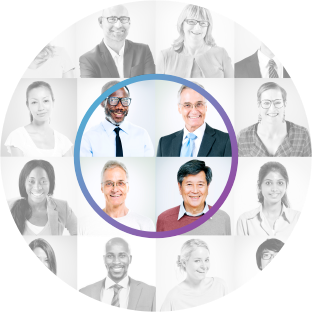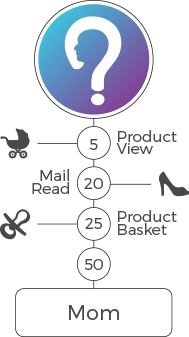 Sharpen Targeting with Personas
Create personas to be "more targeted" and truly understand what's important to each of your customers. Create the story of each individual; who that person is, what his or her lifestyle is like, what that person is most interested in, and what are the pain points?
Sports Fan: Those who have checked sneakers, training suits or fitness products can be given 1 point for each, and when they exceed 10 points, you can add them into "sports fan" persona.
Mother-Newborn: Those who have checked baby products, such as a baby bottle, a pushchair or a onesie, can be given 1 point for each, 5 points for adding to bag, and once they exceed 20 points, you can add them into "Mother – Newborn" persona.
Smart Scoring with E-RFM
Segment customers according to their transaction history by labeling a score for each footprint; how recently, how many times, how much they bought. E-RFM targets not only existing customers but also potential customers unlike traditional RFM by scoring how recently, how many times, for how long they visited the website. It is the best way to identify who is more likely to respond to campaigns.
Valuable customers whose E-RFM score are higher than 10 points and have never visited our website within the last month.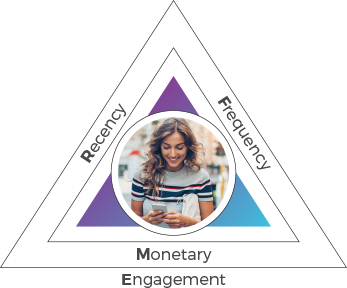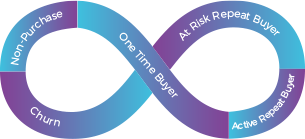 Maximizing the Value at Every Stage of the Customer Life Cycle
Customer life cycle begins with an ordinary customer website visit, sign up, and first purchase. Some turn into repeat buyers, until they stop purchasing from you. The goal of life cycle segmentation is to tailor personalized communications by identifying the most likely migration path of each customer and their future transactional behaviors based on key milestones.
One Time: Most of the customers purchase only 1 time, but those who purchase 2 times are more likely to come back and buy again. Therefore, campaigns targeting customers who only purchased 1 time are more important.
At Risk: Customers who are at risk and have a high RFM score need to be paid special attention.
Smart Targeted Advertising for Google & Facebook Ads
Reach customers through Google, Facebook, and Instagram ads. Link segments to the Audience List in Google Adwords within a period of time decided by you.
Google Ads: Target customers, who are at risk in their Customer Life Cycle, and have not visited web site through Google.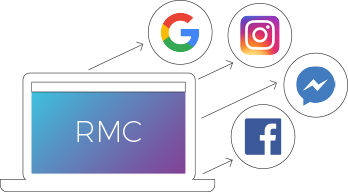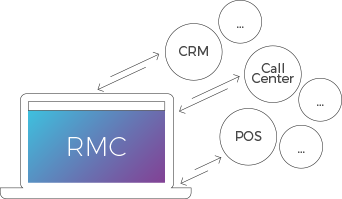 Scheduled 3rd Party Uploads
Upload segments to 3rd party software at scheduled intervals.
Retention Analytics
Retention is becoming more and more important in the present day as the acquisition becomes more expensive. Create many customized reports and customer data analysis, to enhance your retention activities.
Purchase lag is the enhanced analytics for the duration between each purchase such as the time lag between purchases to convert the buyers after an initial purchase to the next one.
Analysis for each customer's purchase history; how much they spent and how frequently they bought.
Cohort analysis is a group of customers' behavioral analytics that defines the frequency of purchasing per unit (per month, week, etc.). Rather than looking at all of your customers as all, cohort analysis provides the view of each group's behavioral patterns.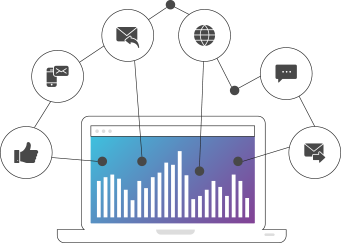 Check Out Our Video For More!
What is the Customer Data Platform?
Also called a customer data platform, your digital priority marketing team can get insights from customer data and manage it.
What does the Customer Data Platform do?
The basic CDP has four primary capabilities:
Data retrieval;

Retrieves first-party customer data from multiple sources (for example, transaction systems, web behavior, call center, demographics or POS).

Identity management;

decodes customers' identities across multiple channels. Most use deterministic matching and profile aggregation with identifiers provided by incoming data. CDP creates and maintains a persistent customer identifier.

Segmentation;

It allows marketers to create and maintain universal, multi-channel audience segmentation with aggregated data in CDP.

Data provisioning/enabling;

Makes it easy to enable the insights and unified customer profile created in CDP. This is done by providing connectors and APIs to other marketing technologies.
Why should you use the Customer Data Platform?
Beyond audience segmentation, there are three big reasons your company would want a CDP: obfuscation, personalization, and insights.
What are the advantages of the Customer Data Platform?
Creates holistic images of your customers

Saves your employees time

Allows marketers to segment their customers

Helps improve customer service and provide a better experience

Allows users to access data from different tools
What problems can Customer Data Platform solve?
Irregular data;

Integrating your disparate data sources via a CDP makes it easy to uncover customer insights every time.

Customer ID;

It can easily solve many customer identity related problems by combining data from multiple sources to create unified profiles for each customer.

Simple segmentation;

Organizing your data and combining customer identity profiles are the first steps towards better segmentation and targeting.

r content goes here. Edit or remove this text inline or in the module Content settings. You can also style every aspect of this content in the module Design settings and even apply custom CSS to this text in the module Advanced settings.
Grow Your Business Faster With Customer Data Platform
Contact us today! Let our experts find your solution.
We have received your application. Thank you.
Error occured, please try again.