 Continuous innovation is the source of our existence.

Collaboration pushes you to go where you'd never go alone.

Taking full responsibility is the main pillar of success.

Big ideas can only flourish in a joyful environment.
By Joining Us, You Will:
Have the opportunity to experience digital marketing and data science at a company that has been active in those fields for more than 20 years. Grow through rigorous learning opportunities. Be evaluated objectively through our KPI based performance management system.
We have the traits of both new, dynamic start-ups and established corporations in our DNA. A part of Dogus Group's investments in technology, our company is looking for the best and the brightest talents to join us. As a digital marketing automation technology company that has been taking pride in being the market leader in email marketing for decades, we look at a bright future shaped by our people. We provide our employees with an environment that fosters and supports creativity, excellence in customer service.
GREAT PLACE TO WORK
The care, attention, and efforts we have applied to keep our employees' happiness on the highest level and to create the best work culture ever are now being recognized as Related Digital is now the owner of the Great Place to Work certificate. We are going to keep on doing our best to ensure our employees' well-being.

Breakfast
Breakfast is the best preparation for the new day's challenges

Massage
Free massages 2 days a week

Happy Hour
TGIF events occur every second Friday

Office Activites
We like to play as hard as we work

Outdoor Activites
Picnics, orienteering and group excursions

Related & More
Vision enhancing talks by experts and pioneers – exclusive to Related Digital employees only !
RELATED DIGITAL IS AN EQUAL OPPORTUNITY EMPLOYER. ALL APPLICANTS WILL BE CONSIDERED FOR EMPLOYMENT WITHOUT ATTENTION TO RACE, SEX, COLOR, NATIONALITY OR SOCIAL ORIGIN, ETHNICITY, RELIGION, AGE, PREGNANCY, DISABILITY, SEXUAL ORIENTATION, GENDER EXPRESSION OR POLITICAL OPINION.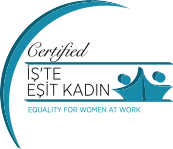 İŞ'TE EŞİT KADIN
At Related Digital family, we are the first technology company to have the "Equity for Women at Work" certificate in Turkey!
We take a stand for the protection of women's rights and equal opportunity in business life.
We take a stand against all kinds of violations to women in business life.
We lead the way in our field with our mission that provides equal conditions at work without any gender discrimination.
We stand for gender-neutral language and against the male-dominant system and its practices.
Nothing is more important than highly engaged people
We provide equal opportunity to all our employees
We are always on the lookout for people who share the same values for us. If you want to be part of our journey, just fill in the form!
We have received your application. Thank you.
Error occured, please try again.